Article
Changing habitat by the species from tropical to temperate region badly impacts farmers' livelihood in Pakistan's North.
Abdul Wahab, a young dweller of picturesque Nathiagali tourists resort in Pakistan's North, owns a small piece of farmland, but his inherited source of livelihood is lying redundant because of persistent rampaging of under cultivation crops by herds of wild boars. Finding no alternative, the poor farmer has given up farming and erected a roadside stall to eke out a living.
"Our 15 marla (4,083.7 square feet) farmland was enough to fulfill food requirements of my family of four, but unfortunately we are unable to utilise this source of earning due to sudden and unusual onslaught by wild boars in our valley resulting in decimation of fields," Wahab told me.
Wahab's family has been farming for generations and wanted to continue it as a source of livelihood, but continuous destruction of crops by the wild species, not native to the area, has been a big jolt to him.
"The attacks by the wild boars have, inflicted enormous financial and mental losses, making it impossible for us to make both ends meet," Abdul Wahab said.
More than 5.3 million people of the whole Hazara belt in Pakistan's Northern region comprising of seven districts – Abbotabad, Battagram, Haripure, Manshera, Upper Kohistan, Lower Kohistan and Torghar – are faced with the predicament of continuous damage of crops by wild boars, which come out during late night in herds and ransack fields and grasslands in search of food.
Muhammad Azhar, another farmer from the same region, is handicapped in utilising his farmland to cultivate staple food and off season vegetables, which fetch attractive prices from markets in plain areas.
The potato cultivated in mountainous region is easily sold at an attractive price of Rs.130 (0.76 US cent) per kg in city markets against the average price of Rs.80 (0.468 US cent) per kg.
In summer season, peas are cultivated only in mountainous region and sold downcountry at a very reasonable price of Rs.400 (US $2.35) per kg against the routine price of Rs.120 (US 0.7 cent).
 
Wild Boars destroyed crops - Heinrich-Böll-Stiftung Regional Af&Pak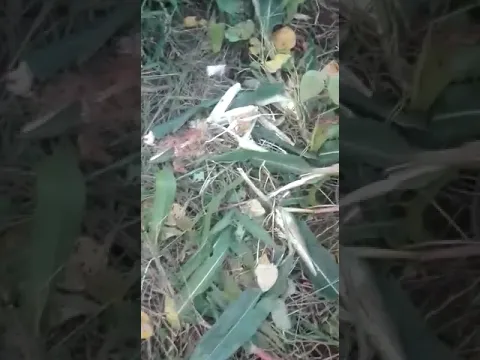 Watch on YouTube
"But unfortunately we are unable to get this benefit because of the menace of attacks by wild boar. They destroy whole field at the initial stage of sowing or germination," Azhar told me.
Perpetual losses and continuous wastage of hard work also forced Azhar to give up cultivation and switch over to fabric business, forsaking decades' old profession of farming besides leaving a well producing farmland unattended. Earlier, Azhar procured maize, potatoes, vegetables from own land and now he has to purchase all these items from market, overburdening his already stretched pockets. 
Sporting white beard and matching cap, sexagenarian Sabir Sultan, failed to hold his emotions of melancholy while speaking with me. He began to cry while explaining the damage and destruction he was facing due to wild boar attacks on his 40 kanal (217,600 square feet) land in Abbotabad district.
"It's a very difficult time for the farming community of whole Hazara region. We are faced with this imbroglio and cannot find any way of getting rid of it," said Sultan in a choked voice.
Sultan said he was sitting in a mosque, Muslims' holy place of worship, but had kept bullets in his pocket so that he could open fire at attacking pigs when they intrude his field. But, he hastened to say, this was not a permanent solution to this problem; farmers could not guard their fields throughout the night and keep on killing animals. He believed that in upper hilly terrain, incidents of thefts, mobile snatching and looting at gun points has started as a spillover effect as people have lost earning from farming.
Faisal Ahmad, a landlord from Dam Tor area of Abbotabad district, is planning to migrate to Islamabad, the capital city of Pakistan, leaving behind his 45 kanal (244,800 square feet) spacious farmland abandoned. He wants to set up a snacks shop over there.
"I made several attempts to utilise my land and continue with the source of livelihood my ancestors were attached with, but finally realised that it was just wastage of resources and energy," Faisal said.
Decrease in crops cultivation
Muhammad Kaleem, director, crops reporting department, Khyber Pakhtunkhwa says that different crops in Hazara division has registered a decline according to available data. Sugarcane cultivation has shown a decrease of 16.07 per cent from 1,574 tonnes to 1,321 tonnes; rice crop production showed a reduction of 1.66 per cent from 7,464 tonnes to 7,340 tonnes; grams production has shown a decrease of 87.5 per cent from 17 tonnes to 1 tonne; and maize crop production has reduced by 3.39 per cent from 253,752 tonnes to 245,153 tonnes. While admitting losses to standing crops by wild boar in different parts of the province, Kaleem stresses on conducting a loss evaluation survey and for suggestions from the concerned department to find out a solution to the problem.
Pig migration to temperate region
The wild boars have shifted from tropical to temperate region during the last few years. Environmentalist and wildlife expert Sajida Noureen, assistant professor in the Wildlife and Forestry Department of University of Haripure, a district of Hazara division, and his students have done extensive research on this issue. They are of the opinion that migration of the wild boar (Sus scrofa) from plains to mountainous regions is because of global warming[i] caused by climatic changes, making the cold temperature of hilly terrain suitable for a species, which until recently was mostly found in down country.
They also believe that the fragmentation of habitats is due to increasing urbanisation, construction of road networks and availability of food dumping sites because of increase in number of restaurants that attracted scavenging beasts to a new and attractive location.
Wild Boars crossing road - Heinrich-Böll-Stiftung Regional Af&Pak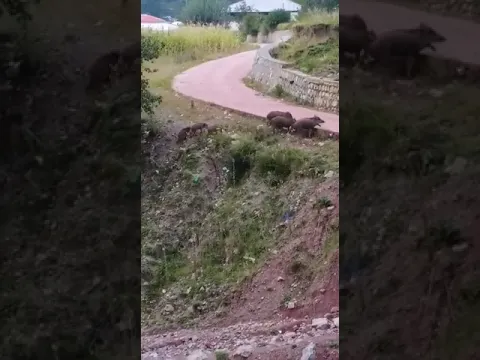 Watch on YouTube
Aurangzeb Nalota, a law maker representing Nathiagalli and its adjacent areas in the legislative assembly of Khyber Pakhtunkhwa province, says that there was not a single feral pig in the locality around a decade back. Then suddenly they arrived in 2013 and increased with a surprising speed, making life miserable for the farming community.
"We have been living here since generations and our elders claim that they have never seen a pig in this area in their whole life. This is a new wild species for local and they are not used to handle it," Nalota tells me.
The lawmaker, who has been getting repeated complaints about wild boar attacks on crops from the people of his constituency, feels the problem has become serious and will have negative impact on economy of Hazara division. He blames concerned departments including wildlife and agriculture – separate departments not from a single ministry – for not giving due attention to the problem in the beginning, which now has aggravated to an alarming level. He warns that if the problem is not solved soon, people may come out on roads to lodge protest over continuous loss of their earnings.
From a wild species to 'pest'
Severe damage and destruction of crops at such a high scale forced concerned officials to declare wild boar as a 'pest' not a wild beast.
In August 8 last year, Iltaf Ahmad, director of agriculture in Manshera district, sought funds from the district government for wild boar control in his area."Wild boar has assumed the shape of a `pest' due to server crops damages and financial losses to farming community," he said in an official communication. "… if wild boar population is not controlled and allowed to grow on same rate, it is feared that the farmers of the area will abandon farming in coming days."
In such a situation, he added, an area of 12,180 to 15,225 acres during the farming seasons of Rabi (starting from October to March to cultivate wheat, gram, barley, mustard) and an area of 12,180 to 18,270 acres during Kharif (starting from April to June to cultivate rice, sugarcane, cotton, maize, pulses) might be left barren."This may cause livelihood and food security issues for farmers of these areas," Iltaf said.
The official through his summary sought a fund of Rs.2.92 million from the district government for initiating `Wild Boar Pest Control' activity. A suggestion was also made for nomination of hunters at community level who are allowed by the wildlife department to hunt the animals and get a reward of Rs. 1,000 (US $5.88) for over killing and burying each animal. "Unfortunately, the proposal was turned down by the district council and plan to contain population of wild boar could not be executed," Iltaf tells me.
Realising the severity of the problem created by massive damage to crops and its grave impact on the farming community, Abbotabad district agriculture officer Sajid Siddiq had to search the internet to find out a solution to stop wild boar attacks. Following extensive research, Sajid has prepared a `pig repellent', a devise made of an iron stand and installed with a wind propelled fan. While rotating, the wings of the fan hit a sound producing device as a result of which the wild species gets scared and does not come close to it. Sajid said he had prepared around 30 such pig repellents at a cost of Rs.5,000 (US $29.25) each and now installing on experimental basis at the fields of many affected farmers.
He said the majority of cultivators in Hazara belt were small farmers who could not afford to purchase the pig controllers and so he was working over a summary to get approval from government for its distribution at large scale at very nominal charges by giving subsidy to the farmers.  
Sajid said that thorough research was needed to study the migration of wild boar and its acclimatisation in temperate and even alpine region and how the species shifted its lair from plains to mountains. According to him, wild boar also attacked fields in plains, but farmers there are financially quite strong having large size of farmlands. They can afford to make arrangements for safety and protection of their crops by erecting protective wire or by arranging surveillance by hunting dogs.
In hilly terrain, protective wires cannot be erected around fields as they block ways for local people who while trekking in hills, pass through different tracks and fields.
In Haripure district of Hazara belt, agriculturists shared the same concerns and are of the opinion that in upper parts, farmers have almost stopped sowing maize.
"The problem is getting worse by each passing day and now we have started advising landowners to divert from cultivation of seasonal crops to growing fruit orchids," says Amjad Ahmad, subject matter specialist (SMS) in plant protection department of Haripure.
The issue of wild boar damages to farmland should be taken up as seriously as locust attacks; emergency should be declared for its containment through deployment of staff at large scale and involvement of local community, Amjad stressed.
He said his department had also approached students of Ghulam Ishaq Khan Institute of Engineering Sciences and Technology, one of the most prestigious engineering institutes of Pakistan, to work over a project for killing of wild boar through injecting poison by using drones.
Pig repellent device - Heinrich-Böll-Stiftung Regional Af&Pak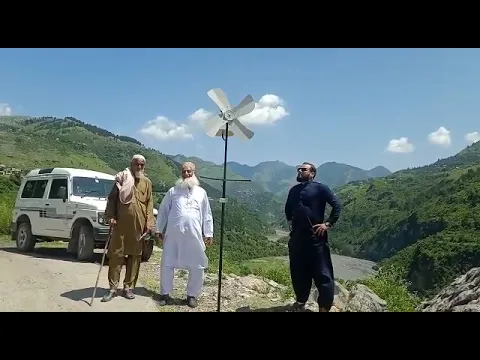 Watch on YouTube
Integrated approach to contain pig population
"The increase in population of wild boar in Hazara belt is because of unbalanced ecosystem disturbed due to killing of leopard and hyenas by locals," said Abbotabad district forest officer Muhammad Idress.
He said due to lack of predator and speedy reproduction rate, the population of wild boar had exceeded with a fast pace and now reached to an alarming level, putting burden on ecology as well as economy of the region. According to him, a female boar can have up to three litters per year and in each litter has more than 10 puppies, which soon get matured and start breeding.
Idress suggested that abnormal increase in population of wild boar in the region required adoption of an integrated approach by concerned departments including the wildlife, agriculture, local government and local community for its containment and annihilation.
According to the Wildlife Act of Khyber Pakhtunkhwa, wild boar is considered as `vermin species' and the wildlife department issues `no objection certificates' (NOCs) to all those who lodge complaints regarding destruction and damage to their crops. Taimoor Ahmad, in charge of wildlife department of Manshera district, said: "We sign Terms of Reference (TOR) with affected persons and give permission to them to kill as animals, but in the presence of officials of the wildlife department. In the TOR, a strict agreement is also made about proper burial and disposal of killed animals."
Crops decimation may cause food deficiency
"Crops damages by wild boar has become a matter of serious concern because the losses are unbearable for the farming community and badly impacting them economically," said Sajida Noureen.
Sajida deplored that the serious issue of saving poor farmers from persistent losses was not getting proper attention of authorities concerned in agriculture department. She warned that if the issue was not taken up immediately, it might cause food deficiency in the region in near future because of locals abandoning of farming and increase in prices of essential commodities caused by paucity in production.
Apart from Hazara belt, she said, wild boar had also shown appearance in the mountainous region of the Pakistan-Afghanistan border and one of her students had done research during M.Phil studies over the presence of the animals and the damage they caused in North Warziristan district of Khyber Pakhtunkhwa.
Sajida stressed the need for developing a liaison between official departments and scientists for finding out a balanced solution to this problem. She herself is working on proposing to launch a project to find out reasons behind changing in habitat of wild boar and solution to stop the increase of the population of the species. "Killing is not the way to get rid of wild boar through firing or poisoning and we have to find out a proper solution to that problem," she said.
She further said that everyone could not kill the animal by using arms. Furthermore, she added, poisoning of the animal could also prove detrimental for other wild species, especially, common leopard, which also used the territory as its lair.
Environmentalist Ejaz Ahmad, a former deputy director general of WWF Pakistan, said that wild boar presence was also reported in the Swat Valley of Malakand division, an offshoot of Hindukush mountain range. He also blamed ecological disturbance as a reason behind thriving population of pig.
Ejaz suggested conducting a scientific study to find out solution to the serious problem so that ecology was maintained and farming community protected from colossal damages.
---
Endnotes 
[i] According to environmentalists, wild boars were found mostly in tropical plain regions of Pakistan, but after 2013 they started appearing in hilly terrain. They are of the belief that the increase in temperature in mountainous region forced the animal to change its habitat.